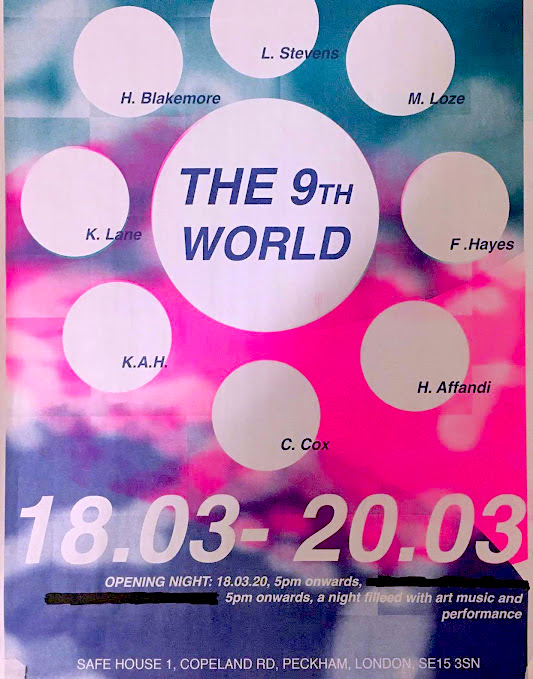 8A brings to you a version of their own individual reality, coming together to create a collective perspective of the world today.
The collaboration of all the artists becomes the 9th artist, the space itself.
'The (number) 9 exists in a world which understands the connections between all of mankind. It is a humanitarian, and sees no real difference between its neighbour next door and the person living in a very different culture and environment on the other side of the world. The 9 is the least judgmental of all numbers, the most tolerant and the most conscious.'
Join us for an immersive experience in Safe House 1, Peckham
The upside down 6 wants to bring you a whole new perspective on the world through the eyes of these artists :
Henri Affandi
Hannah Blakemore
Caitlin Cox
Fran Hayes
Katie Lane
Lily Stevens
KAH Collective
Margarita Loze
Ok so once upon a time we three not-so-blind mice sat round the round table and presented our favourite art ingredients from our bags for life.
WE USED THEM TO THINK ABOUT ART AND PROCESS, MAKING UNMAKING REMAKING AND DIGESTING WHAT WE reMADE. FROM ALL THESE TUMBLED UP THOUGHTS WE BUILT GAMES OF PROCESS FROM WRITING, DRAWING AND COOKING.
We said oo and then we said aaa each ingredient trickling through our minds.
NOT KNOWING THE PATH WE WERE FOLLOWING WE BEGAN ON A JOURNEY OF WRITING, DRAWING, REWRITING, PLAYING, COOKING AND EATING.


PDF of compiled stories and writings, an aid to undertsand our brain juice: